Tips: Driving Safety for Powered Industrial Truck
OSHA outlines several topics for ensuring safe powered industrial truck operation. In this post, we'll address each topic to help you improve driving safety in your facility.
MOUNTING AND DISMOUNTING
Driving hazards are not limited to vehicle operation. It's important to be conscious and aware when mounting and dismounting to promote driving safety for powered industrial trucks.
        - Get a Grip: Prevent slipping when grabbing handholds by ensuring your hands are clean and dry. And be sure to use the handhold for balance and avoid using the steering wheel,
          which can move.
        - Step Carefully: Avoid slips, trips, and falls when stepping on and off industrial trucks. Wearing footwear with an appropriate tread can help you keep your footing. And check your
          shoes for grease and other slippery substances.
        - Watch Your Head: Take care when entering the vehicle and avoid hitting your head on the overhead cage.

STARTING AND STOPPING
To ensure driving safety for powered industrial trucks, you need to be mindful from the beginning to the end of each trip.
        - Check it Out: Before each ride, perform a pre-operation inspection and conduct an operational check after starting your engine.
        - Clear the Way: Before each ride, make sure your path is clear. Sound your horn in warning when necessary, and use a spotter when your view is obstructed.
        - Park Safely: You should only park in authorized areas that do not block aisles or exits. And if you're parked on an incline, be sure to block the wheels.
        - Proceed with Caution: Move at a slow, steady pace while watching carefully for people. Be particularly careful around known blind spots.
        - Stop Gently: Always apply the brake slowly to come to a stop, neutralize the controls, turn off the ignition, and set the parking brake.
OPERATING AT SPEED  
When addressing driving safety for powered industrial trucks, you should always control the vehicle, and speed is a significant factor in control.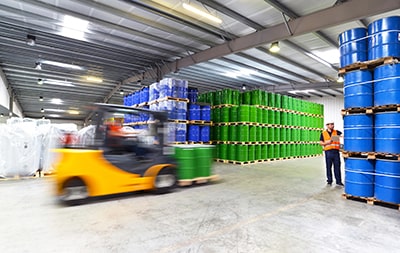 - Keep an Eye on the Path Ahead: You should always keep your attention on the path ahead and maintain a clear view. Always look in the direction you're traveling.
        - Observe the Limits: Driving too fast or taking turns rapidly can tip your vehicle. Watch your speed and make sure you are always adhering to posted speed limits and warning signs.
        - Make Your Presence Known: Sound the horn as you approach aisles and walkways, and whenever your line of vision is obscured.
        - Slow Down for Intersections: Approach cross aisles and walkways slowly and cautiously to avoid accidents and collisions.
STEERING, TURNING, AND CHANGING DIRECTION
Once you're moving, operating your vehicle safely is critical to driving safety for powered industrial trucks.
        - Avoid Potential Hazards: Be mindful of the potential for tip-over and collisions and take steps to avoid both.
        - Back Cautiously: When moving in reverse, look in the direction you're traveling and go slow. Watch out for people entering and objects obstructing your path.
        - Be Aware of Your Visibility: Use your guides and mirrors to increase your visibility and use spotters as needed.
        - Reduce Your Speed for Turns: Take wide turns and reduce your speed to prevent tip-overs and collisions, especially in confined areas and narrow aisles.
        - Stop Before Changing Direction: Come to a complete stop before changing the direction of your powered industrial truck.
TRAVELING ON INCLINES
When thinking about driving safety for powered industrial trucks, caution when traveling on inclines is an important topic. Here are some things to keep in mind.
        - Don't Lift on a Grade: Don't lift the vehicle's forks on a grade.
        - Drive Loads Forward: When going up a ramp, drive the truck forward to go up.
        - Reverse Down Ramps: Ease loads back down the ramp to keep them stable.
PARKING 
Next up for our driving safety for powered industrial trucks topics is parking. We touched on this briefly under Stopping and Starting. Now it's time to go a bit more in-depth.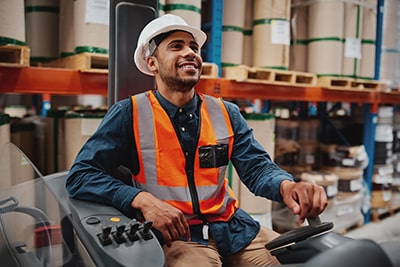 - Neutralize the Controls: Before exiting the vehicle, set the lever to neutral, lower the forks, turn the key to off, and remove the key.
        - Park in Authorized Areas: Park in established areas away from aisles, stairways, exits, and fire equipment. And take care not to block traffic.
        - Properly Secure the Vehicle: Whenever the powered industrial truck is not in use, it should be appropriately secured to prevent unintended movement.
        - Select a Level Surface: Avoid parking on grades and inclines and select level surfaces for parking. If you must park on a grade, block the wheels.
SAFE TRAVEL PRACTICES
In addition to many of the topics and tips above, the following are important to remember for safe travel practices and driving safety for powered industrial trucks.
        - Be on the Look Out for Obstructions: Avoid loose objects and look out for bumps and uneven surfaces—even a small jolt can cause a load to fall.
        - Do Not Pass: Don't pass other trucks that are traveling in the same direction.
        - Eyes on the "Road": Whether you're turning, reversing, or just moving forward, keep your eyes on the path you're traveling.
        - Keep a Clear View: If your load obstructs your view of the path ahead, turn to travel in reverse.
        - Lower Your Load: When traveling, keep the load lowered to prevent it from falling.
        - Observe All Traffic Regulations: Follow facility rules, posted signs, and OSHA standards and guidelines.
        - Only Drive Over Secure Services: Secure dock boards and bridge plates before driving over them, and then proceed with caution.
        - People and Fixed Objects Don't Mix: Never drive toward someone who is in front of a fixed object (e.g., a bench or rack).
        - Shut Down in Elevators: Be sure to approach elevators squarely and slowly, and then neutralize controls, turn off the power, and set the brake.
        - Slow Down on Slippery Surfaces: If you know a surface to be wet or slippery, reduce your speed and exercise caution.
        - Stay Inside: Keep your hands, arms, feet, and legs inside the truck when it's in motion. This will prevent cuts, scraps, amputations, and crushing injuries.
        - Travel Alone: Never carry passengers.  
VISIBILITY       
Visibility is one of the most essential elements of driving safety for powered industrial trucks. Many of the topics above touch on it because it's critical to avoiding collisions and falling loads.
        - Look Where You're Going: Your eyes should be pointed in the direction of travel at all times.
        - Maintain a Sightline: Whenever possible, maintain a clear line of sight in the direction you're traveling. That may mean moving in reverse when a load obstructs your view.
        - Stay Away from the Edge: Be careful when driving on loading docks and other areas where there's a potential for a drop.
        - Use a Spotter: When you cannot see clearly, have someone on the ground help guide your movements with verbal commands. And use your mirrors to increase visibility.
TIP-OVER
Driving safety for powered industrial trucks is meant to prevent tipping, but that doesn't mean you shouldn't be prepared if a tipping accident does occur. If tip-over does happen, here are some tips to prevent or reduce the severity of injuries.
        - Don't Jump: Stay in the forklift to avoid being crushed.
        - Hold On: Keep your grip tight on the steering wheel.
        - Lean Away: Lean your body away from the impact.
For more information on these driving safety for powered industrial trucks topics, visit the OSHA website.

We Can Help
Promoting driving safety inside and outside your facility is just one part of a comprehensive safety program. Our safety specialists, OSHA-certified trainers, and qualified safety sales professionals (QSSP) are on hand to help you address all the topics from this year's National Safety Month and much more. Contact us today!